Climate Change
. My post is targeted at building a
Brighter Planet
through the 350 Challenge.
Blog Action Day

Brighter Planet's 350 Challenge is inspired by Bill McKibben's awareness campaign about the importance of the number
350
, the parts per million of CO2 in the atmosphere that we must aim for if we want to keep the planet relatively safe.
Brighter Planet makes it easier for anyone to get involved in the fight against climate change. On Brighter Planet you'll measure your carbon footprint, discover simple ways to reduce it, track your progress, and share your experiences. They help people manage and mitigate their environmental footprint through several avenues including free social web applications, web-based campaigns, products, and climate solutions.
Carbon offsets play a crucial role in building a sustainable society. Many renewable energy projects are well suited to produce energy and meet stringent standards, but lack sufficient financing. Carbon offsets fill that void by investing in these projects. To learn more about
Bright Planet
or climate change click on the link or the 350 Challenge badge below.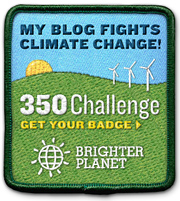 Global Warming Facts and Figures