Goji berries, native to the regions of Tibet, have been used for over 6000 years for health and healing throughout Tibet, China and Mongolia. The Goji is the Tibetan lycium and widely regarded as the most powerful of the lycium found throughout Asia. Although relatively new to the U.S. consumer, the Goji berry is quickly becoming one of the premier super-fruits. This is mainly due to the fact that it packs a potent antioxidant nutrient punch. They have more beta-carotene than carrots; more antioxidants than blueberries; many B vitamins and zeaxanthin. The berry which you will find almost exclusively here in the US in dried form and resembles a red narrow raisin with a sweet sour taste. The monks and traditional medicinal practitioners in the east used the Goji as one of its primary
healthy foods
& teas for longevity as well as for the following:
* Improve libido, fertility and sexual well being
* Improve immune function
* Increase circulation
* Strengthen muscles
* Heal & protect the liver
There is a host of products and manufacturers out there making everything from juice, health bars and powders to capsules, extracts and even chocolate bars mixed with the Goji in it. However, many are not using the
Tibetan Goji
which is also organic but instead an alternate variety of lycium, a Chinese variety called the "wolfberry", that is not organic, not as nutrient dense but often purported as such and using the Goji name. The Tibetan Goji has the most potent nutrient value and is the real Goji so be sure your getting Tibetan Goji berries and not wolfberry or lycium barbarum variety.
Many of the juice & other products sporting the Goji label or Goji juice name are actually from Chinese Wolfberry and will say it on the label. These juices are quite expensive, can contain some residue from pesticides and may not pack the antioxidant power of the real fruit. My suggestion would be to get the actual Tibetan Goji berries and mix them with some almonds & walnuts to eat as a snack or use them on salads, on cereal, in muffins or just munch on them by themselves. This will be less expensive and probably better for you. If you prefer the juice, then choose wisely. Enjoy.
To validate the authenticity of vendors of Goji Berries or a Goji berry product:
Validate Authentic Goji Berry Distributors
Order Today:
Organic Tibetan Goji Berries
from the Tibetan Goji Berry Company.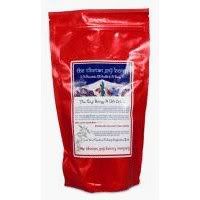 Image by
Cool Text: Logo and Button Generator
-
Create Your Own